Club Coaching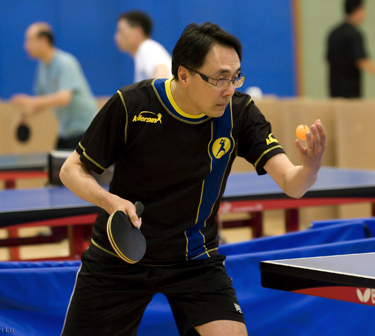 Coaching is available at our club! Our resident coach, Bunny Lee, is happy to talk about new training opportunities.
Coaching Program History
Coach Bunny first established the BTTC coaching program in the summer of 2007. They started training in a small common room on the second floor of the James Kenney Community Center with only 8 students and 4 tables. As the number of students increased, they moved to the gym in 2009.
About Bunny
Coach Bunny was born in Hong Kong, China and came to the United States as an immigrant with his family. He started playing table tennis when he was 13, which was considered quite late. He was selected to be in his high school table tennis team, but without parental support, could not play competitively. Coach Lee used to play penhold with short pips on one side, but now plays shakehand with inverted rubber on both sides.
During his time playing Table Tennis, Coach Bunny has achieved several awards:
| Tournament | Place |
| --- | --- |
| 2011 LA Open U2250 | Semi-finalist |
| 2007 Golden State Open Over 50 Esqu. | 1st Place |
| 2007 Sacramento Winter Open Senior Over 40 | 2nd Place |
| 2004 Stiga Western Open Under 2125 | 1st Place |
| 1996 Palo Alto Cinco de Mayo Under 2000 | 1st Place |
And many others...
BTTC Group Training Program Details
Our program meets every Saturday from 7:00 PM to 9:00 PM at James Kenney Community Center in Berkeley. Players of all levels are welcome to join. The program's main goal is to help players master many different skills in table tennis, so they can play competitively and of course, have fun.
| Program | Fee |
| --- | --- |
| Quarterly (12 sessions) | $300 |
| 4 sessions (no make-up sessions) | $100 |
| Drop-in for new members | $30 |
Private Coaching
Coach Bunny also offers private coaching. There is a 1-hour minimum for local students. There is a 2-hour minimum for out-of-town students, plus travel expenses.
Age Group
Fee
Adults

$50

per hour
Juniors (17 and under)

$45

per hour